As a special Treat for our readers, we present Seven Deadly Sins*, a Halloween week's worth of Cocktails to Die For, culminating on the Day of the Dead.  I enlisted help from Premier Beverage Company's Nick Nistico to create these devilish concoctions. To get in the spirit, we suggest turning on your favorite spooky music and checking back nightly after dark for each spellbinding recipe.
Tonight's tune is Iron Maiden's Moonchild: Seven deadly sins, Seven ways to win, Seven holy paths to hell, And your trip begins. Seven downward slopes, Seven bloodied hopes, Seven are your burning fires, Seven your desires. Perfect for our first deadly sin: Gula or Gluttony, the action of taking too much of something in.
Gluttony's Pumpkin Piña Gulada
2 oz Pumpkin seed infused Old Forester Bourbon
1 oz Pumpkin Puree
1 oz Coconut Puree
2 oz Fresh Pineapple
Blended smooth and garnished with toasted pumpkin seeds and a candy pumpkin
We continue our journey through the Seven Deadly Sins* with Wrath (Latin, Ira), also known as "rage", may be described as inordinate and uncontrolled feelings of hatred and anger. Feelings of anger can manifest in different ways, including impatience, revenge, and self-destructive behavior (Wikipedia).
Tonight's tune is Rolling in the Deep by Adele: There's a fire starting in my heart, Reaching a fever pitch and it's bringing me out the dark. Finally, I can see you crystal clear, Go ahead and sell me out and I'll lay your shit bare. See how I'll leave with every piece of you, Don't underestimate the things that I will do…
When you are feeling all fired up, create your own libation to soothe those anger issues with Premier Beverage's resident Mixologist Nick Nistico's devilish concoction:
Screaming Red Banshee
1 oz Cinnamon infused St. Germaine Elderflower Liqueur
.5 oz Filthy Brand Red Cherry Juice
Topped with La Marca Prosecco
Garnished with a candy finger, or perhaps the finger of an ex -lover
Next in our wicked series is Superbia, aka Pride, the sin of being too self absorbed. It is the sin from which all other sins arise. A little bit of self admiration is a good thing, but a little goes a long way. Too much, and as they say, "Pride goeth before a fall". Check your ego while sipping this smokin' libation created by Premier Beverage's master Mixologist Nick Nistico. He's very proud of it!
Before The Fall
2 oz dried apple infused Clyde May's Whiskey
.5 oz Bitter Truth All Spice Dram
Stir gently then strain over rock ice
Garnish with "smoking" cinnamon
Tonight's tune is Carly Simon's infamous You're So Vain: "You had one eye on the mirror as you watched yourself gavotte" (a French dance where the dancer prances around). "And all the girls dreamed that they'd be your partner! They'd be your partner, and… You're so vain, you probably think this song is about you. You're so vain, I'll bet you think this song is about you Don't you? Don't You?"
Our wicked series continues with the sin we are all familiar with: Envy or Jealousy; wanting to have what someone has. Envy occurs when we lack a desired attribute enjoyed by another. Jealousy occurs when something we already possess is threatened by a third person. The difference: envy is a two-person situation whereas jealousy is a three-person situation. Envy is a reaction to lacking something. Jealousy is a reaction to the threat of losing something. For this cocktail created by Premier Beverage's master Mixologist Nick Nistico, the Pumpkin is King:
Pumpkin Envy
2 oz Crop Spiced Pumpkin Vodka
2 oz Apple Cider
.5 oz Pumpkin Puree
.5 oz Fresh Lemon Juice
Shake all ingredients and strain over ice; add pumpkin candy garnish
Tonight's tune is Rick Springfield's catchy 80's Jessie's Girl: "Jessie is a friend, yeah, I know he's been a good friend of mine, But lately something's changed that ain't hard to define. Jessie's got himself a girl and I want to make her mine. Where can I find a woman like that, Like Jessie's girl, I wish that I had Jessie's girl, I want, I want Jessie's girl."
"Money money money money, MONEY…" Our wicked series continues with Greed: the desire for material wealth or gain above all else. It is also called Avarice or Covetousness. Greed is linked with the frog and the color yellow. Your punishment in Hell: You'll be boiled alive in oil. Bear in mind that it's the finest, most luxurious boiling oil that money can buy, but it's still boiling. You may not want to share this golden cocktail created by Premier Beverage's master Mixologist Nick Nistico,
Gilded
3 oz Stoli Gold
1 oz Lillet Blonde
Stir gently with ice, strain neat
Orange twist garnish (spider optional)
Serve ice cold, like my greedy heart.
Tonight's tune is The O'Jay's For the Love of Money "For the love of money People will lie, rob, they will cheat. For the love of money People don't care who they hurt or beat. For a small piece of paper it carries a lot of weight. Oh, that mean, mean, mean, mean, mean green. Almighty Dollar! Talkin' bout, talkin' bout – cash. I know that money is the root of all evil. Money can drive some people out of their minds. For the love of money No good, no good, no good."
Our sixth Deadly Sin, Sloth,  is defined as physical or spiritual laziness. In the Christian faith, sloth rejects grace and God. Sloth has also been defined as a failure to do things that one should do. By this definition, evil exists when good men fail to act. Sit back and listen to The Importance of Being Idle  with drinking this  cocktail created by Premier Beverage's master Mixologist Nick Nistico:
The Creamy Beast
2 oz Bols Yoghurt Liquor
2 oz Damrak Gin
.5 oz Local Honey
Shake and serve up
Garnish with Holiday Sprinkles
Tonight's tune is The Importance of Being Idle by Oasis: "My best friend called me the other night He said, "Man, are you crazy" ? My girlfriend told me to get a life She said, "Boy, you're lazy". But I don't mind as long as there's a bed. Beneath the stars that shine. I'll be fine if you give me a minute A man's got a limit. I can't get a life if my heart's not in it, hey, hey".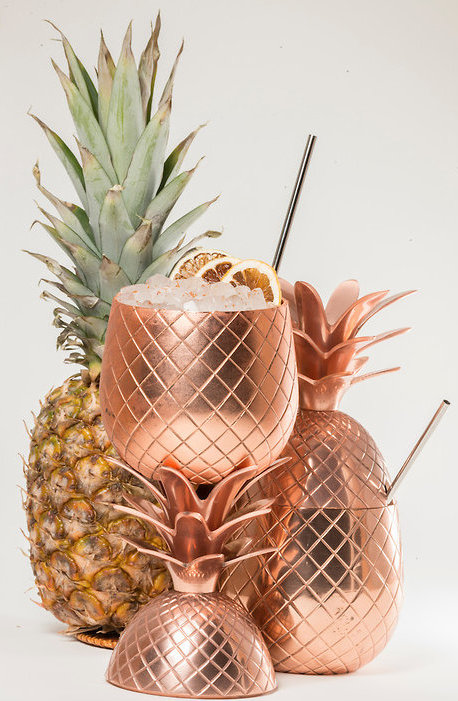 Our final deadly sin, rounding out this devilish journey is Fornicatio aka Lust, the inordinate craving for the pleasures of the body. In Dante's Inferno, unforgiven souls of the sin of lust are blown about in restless hurricane-like winds symbolic of their own lack of self-control to their lustful passions in earthly life. Your punishment? To be smothered in fire and brimstone. Not kisses.
For this cocktail created by Premier Beverage's master Mixologist Nick Nistico, he brought out the coveted  golden pineapple.
Blood Lust
2 oz Stoli Elit
3 oz Fresh Pineapple
1 oz Tuaca Vanilla Liquor
Shake with ice and strain over ice into glass
Def Leppard's tune Animal is playing as I write this: A wild ride, over stony ground. Such a lust for life, the circus comes to town. We are the hungry ones, on a lightning raid. Just like a river runs, like a fire needs flame. Oh, I burn for you. I gotta feel it in my blood, whoa, oh I need your touch don't need your love, whoa, oh. And I want, and I need, and I lust, animal. And I want, and I need, and I lust, animal. With that we end our journey. Special thanks to Nick Nistico and Jason Leidy, my partners for this sinfully fun project.
Mixologista  A Downtown Girl Mixing it up in the South Florida scene. The latest in craft cocktails and beers, food trends, culinary events and blogs. Photography by MRA Photography. My columns are also available socially on Eye on South Florida and More BITES  ciao!
*The Seven Deadly Sins
Avaritia: Greed – Wanting too much of something – Boiled in oil 
Gula: Gluttony – Taking too much of something in – Forced to eat rats, snakes, spiders, toads 
Fornicatio: Lust – The need to fulfill unspiritual desires – Roasted by fire and brimstone 
Invidia: Envy – Jealousy; wanting to have what someone has – Encased in freezing water 
Acedia: Sloth – Being too slow or lazy at doing something – Thrown into snake pits
Ira: Wrath – Vindictive anger; revenge – Torn apart, limb from limb 
Superbia: Pride – Being too self absorbed – Broken on the wheel